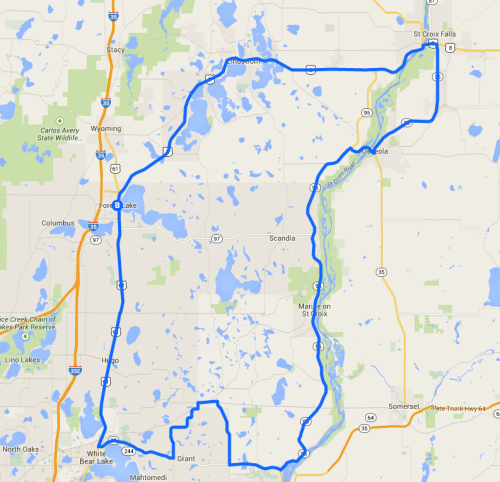 Mileage; approximately 85 miles
Time; 2 hours
Description; this ride include some nice winding trails through farmland and past quite a few breathe taking lakes. But the real enjoyable part is the northern loop of the St Croix River. Interstate Park covers both Minnesota and Wisconsin, is a natural wonderment and can't be missed. There are some cool bridges crossing the Mighty Mississippi.
Best thing about this ride; all the little hole-in-the-wall establishments along the way.
Advice; this ride is always fun but the fall is the best time to experience the one.
Help for map; US Hwy 8 into WI, south on Cty Rd 35 to Hwy 243, into MN to Hwy 95,
take 95 south to Stillwater, take Hwy 95 N, to Cty Rd 96 west, to Cty Rd 15 N, to Cty
Rd 7 W, to Cty Rd 9 W, to Cty Rd. 96 right, to US Hwy 61 N, to US Hwy 8.
This is for the North St. Croix River Ride.