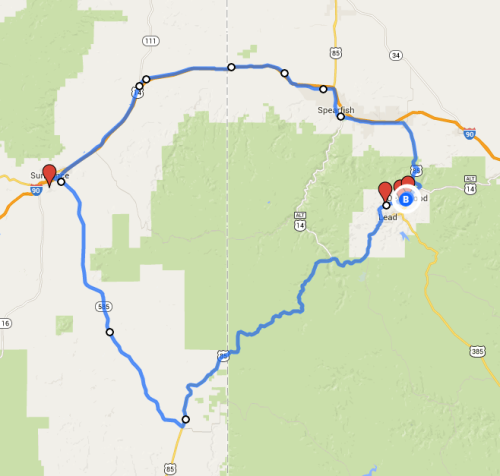 Mileage: Approximately 118 miles
Time: Approximately 3 hours
Directions:
From Rapid City: take Hwy 44 to Hwy 385, 45 miles
From Sturgis: take Hwy 14A, 12 miles
Description: This ride runs through the historic gold mining towns of Lead and Central City. It also winds through Spearfish, SD and few places other places to stop such as Horton, Four Corners and Buckhorn. The destination, however, is the fun little town of Sundance, WY.
Best thing about this ride: Besides the multitude of fun places to stop, the ride from Cheyenne Crossing to Four Corners is filled with engaging twists and turns and unlimited spectacles of scenery. O'Neill Pass has an elevation of 6905 and is one of the highest and most beautiful places in the Black Hills.
Advice: We suggest giving this ride a try on Wednesday (during Rally) and head to the burnout competition in Sundance to try and roast your rear tire. Or, maybe just watch others give it a try and spend your money somewhere else.