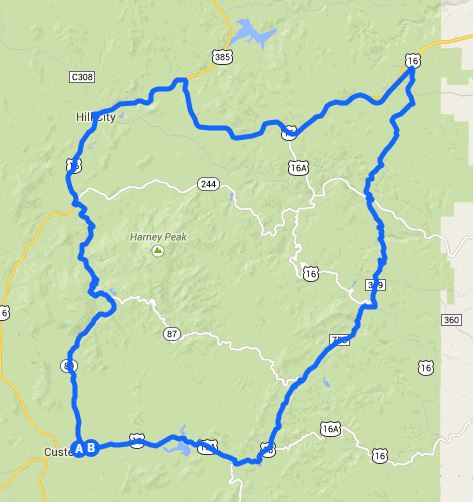 Mileage: Approximately 88 miles
Time: Approximately 2 hours
Description: this ride includes some less traveled roads around the Hill City, Keystone and Rockerville areas. It also includes a nice little jaunt down Playhouse Road, which has just enough curves and hills to make it fun and interesting. The old mining ghost town of Rockerville and Sitting Bull Crystal Caverns are also great stops that make this ride worth the trip. If you're up for a quick dip, a stop at Center Lake is a must.
Directions:
From Rapid City: take Hwy 16 south 10 miles
From Sturgis: take Hwy 385 south 75 miles
Best thing about this ride: The Playhouse Road portion of this ride is a hidden gem because of it's scenic beauty and Bear Country USA will make this ride a memorable one, and why we think it's a "can't miss".
Advice: Watch out for the part of this ride that runs along Hwy 87, as it contains a few switchbacks and hairpin turns.