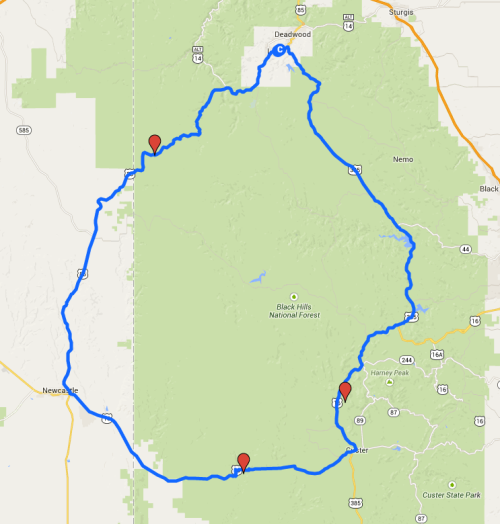 Mileage: Approximately 146 miles
Time: Approximately 4.5 hours, depending on stops
Description: Because this ride is one of the longest, it tends to be less crowded and makes for a perfect full day ride that's nice and quiet. The ride will take you through Buckhorn, WY, New Castle, WY, Custer City, SD, Hill City, SD and the tourist "must sees" of Crazy Horse Memorial and Jewel Cave National Monument.
Directions:
From Sturgis: take Hwy 14A through Deadwood 15 miles
From Rapid City: take Hwy 44 east 16 miles.
Best thing about this ride: Jewel Cave National Monument, Crazy Horse Memorial, O'Neill Pass (one of the highest elevations in the Black Hills) and Four Mile Old West Town.
Advice: After you get away from the more populated areas of this ride the stops are a little more spread apart so plan ahead for refueling