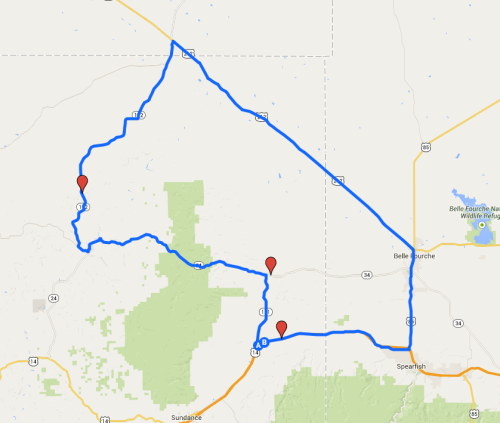 Mileage: Approximately 120 miles
Time: 2.5 hours, depending on stops
Description: A fun little ride through all three types of landscape the area has to offer. The Bear Lodge Mountains, some nice rolling hills and some typical area plains encompass the terrain you will be riding through. This ride takes you into the three states of Wyoming, Montana and South Dakota. This is ride is typically not very crowded.
Directions:
From Rapid City and Sturgis take Interstate 90 to Hwy 34 To Hwy 212
From Sturgis take Interstate 90 to the Hwy 85 exit.
Best thing about this ride: the hills between Aladdin and Hulett, the ice cream in Aladdin and if you have an extra 1.5 million the town of Aladdin is for sale.
Advice: the best day for this ride is Wednesday so you can enjoy the Ham & Jam festival in Hulett, WY.