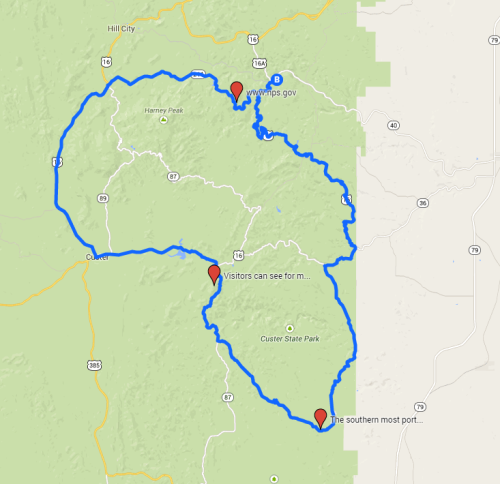 Mileage: Approximately 67 miles.
Time: 3.5 hours
Description: This spectacular ride could be the most popular ride in all of the Black Hills area and depending on you riding skill, definitely one of the best rides. It is full of switchbacks, tight curves and pigtails all while climbing and descending almost 2,000 ft. The Iron Mountain Road section of this ride is 17 miles long and contains 314 curves, 14 switchbacks 3 pigtails and 3 tunnels that designed to frame Mount Rushmore. You will also run through Custer State Park, where if your lucky, you can see the "buffalo roam" up close - but bring your binoculars just incase. Keystone and Hill City are the closest towns near this ride, but there are a few other places to stop and grab a cold Sarsaparilla. It also includes a stop at Sylvan Lake which has incredible views of the lake and plenty of trails for hiking if you are the adventurous type.
Directions:
From Sturgis: take Hwy 385 south 56 miles.
From Rapid City: take Hwy 16 south 24 miles.
Best thing about this ride: the needles (spires) are breathtaking, the max elevation is 6,397 feet above sea level and when you see the views you will think you are in heaven. You'll also have an opportunity to see Mt Coolidge Fire Lookout.
What else to look out for: Begging burros, prairie dogs, deer and pronghorn antelope - both literally and figuratively.
Advice: Don't let the road get to you, just respect it and enjoy the ride. e.