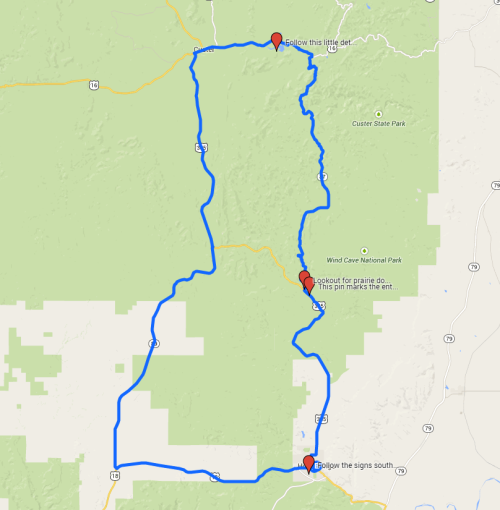 Mileage: Approximately 75 miles
Time: 3.5 hours depending on stops.
Description: This ride is less hilly but as equally beautiful and filled with prehistoric wonderment. You will find a few challenges as you ride along, especially from Stockade Lake south through Custer State Park and Wind Cave National Park to Hwy 385. The rest of the ride is just as fun with it's winding curves and a few places to open it up a little bit.
Directions:
From Sturgis: take Interstate 90 or Hwy 385 south, distance 61 miles. Rapid City: take Hwy 44 to Hwy 385 south, distance 40 miles
Best thing about this ride: Wind Caves, Hot Springs, Wholly Mammoth fossils. Prairie Dogs. The scenic overlooks of Rankin Ridge Lookout, Cicero Peak and Custer Mountain all require a short ride on gravel but are worth the trip. What's not to like!
Advice: With so much to do and many stops to make plan on making this a whole day trip.