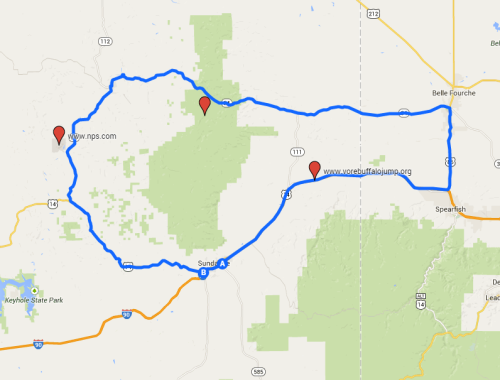 Mileage: Approximately 110 miles
Time: 2.5 hours
Description: This is one of the most popular rides in the Black Hills. Devils Tower is probably one of the most famous and recognizable natural icons in the world. There are some very nice stops along the way and the ride itself is full of nice long sweeping curves.
Directions:
Sturgis; take Interstate 90, 19 miles
Rapid City: take Interstate 90, 48 miles
Best thing about this ride: Besides Devils Tower, the small towns of Hulett, Beulah and Sundance are known to offer all sorts of entertaining events and don't ever seem to disappoint if you are looking to get off the bike for a while and take care of your "monkey butt". Another must see on this ride is the Vore Buffalo Jump, which is one of North America's most important and spectacular Plains Indian archaeological sites.
Advice: On Wednesdays during the rally Hulett has the annual Ham & Jam Festival so go early and enjoy. This attracts a lot of riders so plan to go another day if crowds are not your thing.ferent day.