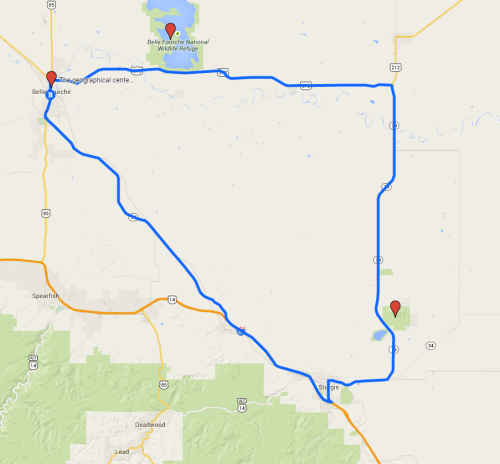 Mileage: Approximately 85 miles
Time: Approximately 3.5 hours, depending on stops
Description: This attractive ride includes Bear Butte State Park, which is an important historical landmark for both Native American Indians and early European Pioneers. In Bear Butte State Park there is a beautiful hiking trail that leads to the 4,426 ft. summit. The ride also includes the Rocky Point State recreation area at the Belle Fourche Reservoir. There are many places to stop along the way including the towns of Nisland, Belle Fourche, ("bell foosh", which is French for beautiful fork because the town sits on the forks of the Redwater River) and the Belle Fourche River. Belle Fourche is also home to The Center of the Nation Monument, designating it as the geographical center of the United States. Whitewood, which is an old railroad town founded by the Chicago and North Western Railways is also along the way. There are more local establishments in St Onge, which is a western cattle town.
Directions: From Spearfish take Hwy 85 north. From Rapid City take Interstate 90 east. From Deadwood take Hwy 14A.
Best thing about this ride: You will find small town hospitality on this nice ride away from the big crowds. A couple of natural wonders, Bear Butte and The Belle Fourche River, are worth your time. This is also a great opportunity to stop in Sturgis, the motorcycle capital of the world.
Advice: With the unlimited number of stops and things to see, this ride could take you all day.
What else to look out for: Historic Fort Meade