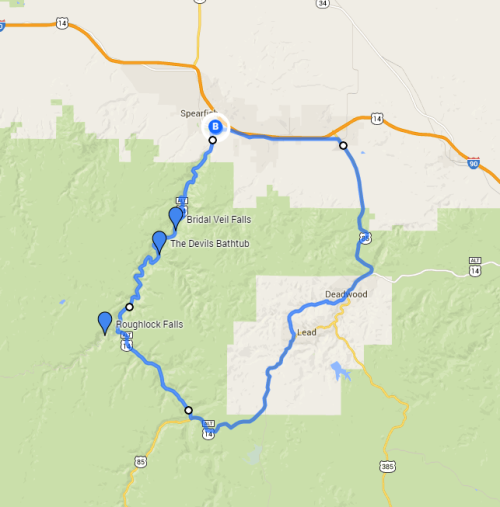 Mileage: Approximately 50 miles
Time: 2.5 hrs
Description: This is probably the most scenic ride in the Black Hills area. It includes: Bridal Veil Falls, Spearfish Falls, Little Crow Peak, Homestake Gold Mine, Black Hills Mining Museum, The Hippie Hole and the "must see" Devils Bathtub.
Directions:
From Spearfish take 14A south
From Sturgis take I90 to 85 south to 14A
From Rapid City: take I90 to 85 south to 14A
From Wyoming: take 85 north to 14A.
Best thing about this ride: The ride has astonishing views of epic cliffs, glimmering streams and tumbling waterfalls. The roads have long sweeping curves which allow for a slow scenic trip through this natural wonder.
What else to look out for: At Savoy (Spearfish Canyon Lodge) take 222 S about 1 mile to Roughlock Falls. The road is dirt so be careful, but this hidden gem is worth the ride.